Centenary Hall
Background
The hall was named to mark the 100th anniversary of the founding of Burstow Parish Council when it was built in 1995 as a replacement for the old Jubilee Hall. It is a hub for many village activities and also contains the Parish Council office.
Scope
There are three different sized rooms available to accommodate a wide variety of functions, as depicted in the table below.
Assembly Hall
This is the largest room with a ceiling height of 5m. The hall currently has a polished maple-wood sprung floor. There are ample power points and a ventilation system.

There is hatch access to a large adjoining kitchen, fully equipped to heat and serve pre-prepared food. It has two ovens, a microwave and a refrigerator.
Outwood Room 1
The larger meeting room with a ceiling height of 2.4m and a hatch to a small kitchen.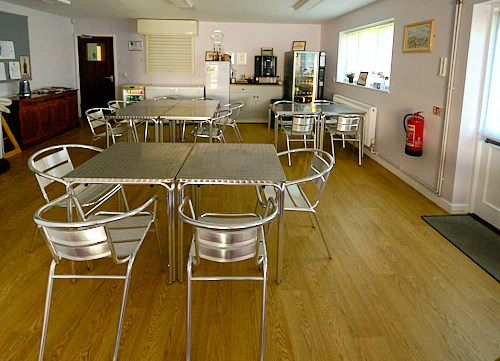 Outwood Room 2
A small meeting room that also serves as the council meeting chamber, again with a ceiling height of 2.4m.
The Outwood rooms are divided by a set of movable panels.

Note that the Outwood rooms are not available during the hours the Café or Apple & Cor are in use.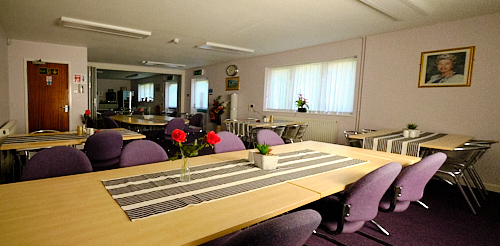 Centenary Hall Room Capacities
Room
Type of Use
Maximum Capacity
Assembly Hall
9m x 17m x 5m (h)
Floor area = 153 m2
Standing
200
Banquet Style (Round)
136
Banquet Style (Rectangle)
164
Reception Style (with dance floor)
182
Theatre Style
200
Meeting Room (Outwood 1)
6m x 7.3m x 2.4m (h)
Floor area = 43.8 m2
Tables & Chairs
40
Standing
78
Community Room (Outwood 2)
5.4m x 6m x 2.4m (h)
Floor area = 32.4 m2
Tables & Chairs
34
Standing
57
Facilities
WiFi is available for users.
Each room has individually adjustable heating.
There is access for disabled users and a separate toilet.
Tables and chairs are available for use by hirers and the kitchen is well stocked with crockery and cutlery. No glassware or cooking equipment is available.

The Centenary Hall is not licensed for the sale of alcohol. Hirers are responsible for arranging a license for functions that include a paid bar.
However, the Council does have an 'on license' for hirers to use, so alcohol can be served, but not charged for.
Hirers are also responsible for any First Aid provision.
Parking
There is a car park next to the Centenary Hall. However, please note that the car park is not for the sole use of Hall users and certain times of the day can be very busy, so you may not be guaranteed a space.
Booking arrangements & Hire costs
Room hire charges vary according to the day, evening or weekends and the exact rates can be obtained from the Parish Council office at the Centenary Hall.
Booking Hours: 9.30am - 12.00 noon, Monday to Friday

Contact the Clerk via the contact page or links below.
Adobe Reader
To view the PDF documents on our website, click the View buttons and the document will open up in an online Adobe Reader, where you will be able to download the document if required. (Click on the three dots in the upper right hand corner to select download or print options).